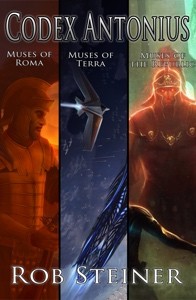 In a universe where the Roman Empire survived and spawned an interstellar civilization, Marcus Antonius Cordus fights to free humanity from enslavement by a sentient alien virus called the Muses.
Now you can get all three volumes in the Codex Antonius series (MUSES OF ROMA, MUSES OF TERRA, and MUSES OF THE REPUBLIC) in one low-priced ebook available exclusively on the Amazon Kindle.
The Codex Antonius 3-in-1 ebook is available on Amazon Kindle.